LiftOff Max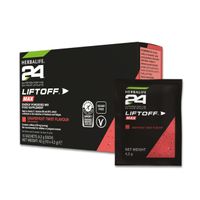 H24 LiftOff Max is a delicious grapefruit flavoured energy drink that contains 180 mg of caffeine per serve, perfect before a workout or whenever you need to get back on track. ***
It is high in vitamin C, vitamins B6 and B12 which contribute to reducing tiredness and fatigue. It is also specially formulated with pantothenic acid that contributes to normal mental performance.
Key benefits
180 mg of caffeine per serving ***
High in vitamin C, vitamins B6 and B12
Sugar-free
Vegan
No artificial colours or flavours, contains naturally sourced sweetener
Refreshing Grapefruit Twist flavour
Details
H24 LiftOff Max is sold in boxes of 10 individual sachets and is available in Grapefruit Twist flavour.
For best results, we recommend 1 sachet per day dissolved in 250 ml water either before a workout or whenever you need to get back on track. Enjoy this product within a balanced and varied diet, as part of a healthy, active lifestyle.
*** It is not recommended to exceed a daily intake of 400 mg caffeine from all sources (200 mg for pregnant or breast-feeding women).