Prolong
Sports Energy Drink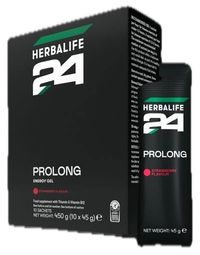 Consume Herbalife24 Prolong during high-intensity or extended exercise
Nutrition is vital to power your performance. Prolong's dual-source blend of carbohydrates facilitates caloric utilisation for sustained performance. Whey protein acts as a protective measure, reducing muscle breakdown during prolonged exercise. Prolong is easy-to-drink with a light, subtle flavour.
Herbalife24 Prolong benefits
Sustain performance with dual-source carbohydrates, protein and sodium
With protein to support muscle synthesis and recovery
B vitamins, including B1 and B12, support energy metabolism
100% RDA of vitamin C
Isotonic formula for efficient carbohydrate and fluid uptake
Independantly tested for prohibited substances
Prolong product spotlight video
Who needs Herbalife24 Prolong?
Triathlete completing a combined bike-to-run workout or on race day
Cyclist on a 4-hour training ride
Swimmer during a morning workout
Football player during training or competition
Working professional with physically demanding job requirements
Details
Herbalife24 Prolong is sold in 900g tubs containing approx 15 servings.
Add 4 level scoops (60g) to 250ml of water, shake vigorously, then add a further 250ml to make a 500ml serving. Drink one bottle (500ml) per hour during physical activity.
Prolong is citrus flavour.
Product accessories

Herbalife Sports Bottle 750ml
A Herbalife branded 750ml sports bottle for water, Hydrate, Prolong, or (iced) tea.
Related products

Herbalife24™ Formula 1 Sport Nutritional Meal-Replacement Shake
Balanced with carbohydrates, dairy proteins, vitamins, and minerals, Formula 1 Sport establishes a solid nutritional foundation for performance while being convenient to consume.

Herbalife24™ Rebuild Strength Post-Exercise Protein Shake
Promote lean muscle growth with 25g of high-quality dairy proteins. The specially selected blend of milk protein creates a rapid and sustained muscle building state.

Herbalife24™ Rebuild Endurance Post-Exercise Protein Shake
Recovering after intense aerobic activity requires both replenishing glycogen and rebuilding muscle. Rebuild Endurance contains an engineered blend of carbohydrates, milk protein, glutamine and L-Carnitin.

Herbalife24™ Hydrate Hypotonic Electrolyte Drink
Hydration is key for performance. Replenish your body with electrolytes to enhance fluid absorption, ensuring you are hydrated and ready to perform at your best.