Rebuild Endurance
Post-Exercise Protein Shake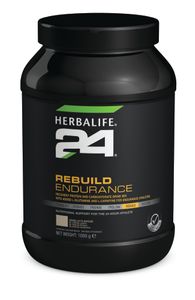 Consume Rebuild Endurance immediately following aerobic exercise
Recovering after intense aerobic activity requires both replenishing glycogen and rebuilding muscle. Rebuild Endurance contains an engineered blend of carbohydrates to help jump-start glycogen replenishment. A selected blend of milk protein, glutamine and L-Carnitine aid muscle recovery and help support the immune system. Quickly metabolised whey protein, and slower-release casein protein create a rapid and sustained muscle building state.
Rebuild Endurance benefits
Rich in protein, from milk protein concentrate and whey protein isolate
Designed to help speed recovery with a unique carbohydrateprotein blend to support muscle glycogen replenishment and rebuild muscle during the critical post-exercise period
L-Glutamine to support the immune system, which becomes stressed by exercise
Includes L-Carnitine to aid muscle metabolism and recovery after exercise
Independantly tested for prohibited substances
Rebuild Endurance product spotlight video
Who needs Rebuild Endurance?
Cross-country runner after a five-mile training run
Cyclist after an uphill training ride
Football player after practice or a game
Triathlete after a long training session
Details
Herbalife24 Rebuild Endurance is sold in 1000g tubs containing approx 20 shakes.
Mix 4 level scoops (50g) with 250ml of water and shake vigorously. Consume within 30 minutes of aerobic activity.
Rebuild Endurance is vanilla flavour.
Product accessories

Herbalife Super Shaker
The best shake in the world deserves the best shaker in the world! With our innovative whisk ball and two screw-on compartments.
Related products

Herbalife24™ Formula 1 Sport Nutritional Meal-Replacement Shake
Balanced with carbohydrates, dairy proteins, vitamins, and minerals, Formula 1 Sport establishes a solid nutritional foundation for performance while being convenient to consume.

Herbalife24™ Rebuild Strength Post-Exercise Protein Shake
Promote lean muscle growth with 25g of high-quality dairy proteins. The specially selected blend of milk protein creates a rapid and sustained muscle building state.

Herbalife24™ Hydrate Hypotonic Electrolyte Drink
Hydration is key for performance. Replenish your body with electrolytes to enhance fluid absorption, ensuring you are hydrated and ready to perform at your best.

Herbalife24™ Prolong Sports Energy Drink
Prolong's dual-source blend of carbohydrates facilitates caloric utilisation for sustained performance. Whey protein acts as a protective measure, reducing muscle breakdown during prolonged exercise.